Why the "Abolish ICE" Movement is Bad for Art and Antiquities
Homeland Security Investigations agents do vital art recovery work
Last week, Homeland Security Investigations agents from Immigration and Customs Enforcement (ICE) recovered a 19th Century painting stolen from the Abbey of Santa Maria in Sylvis in Sesto al Reghena, Italy, in May of 2002.
Acting on a tip originating in Rome, ICE agents in Dallas, Texas, took possession of the painting, titled The Assumption of the Virgin Mary, created in 1851 by the Italian artist Giuseppe Pappini. It was discovered in the possession of a private owner who, unaware of the crime behind the painting's journey to America, voluntarily turned it over to authorities.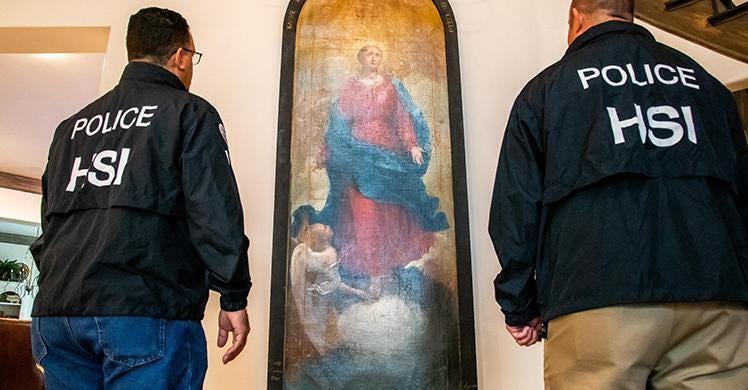 ICE agents play a critical role in the recovery of stolen and looted art. The squad, conducting investigations via the Cultural Property, Art, and Antiquities Unit, receive specialized training from the Smithsonian Institution's Museum Conservation Institute.
The Pappini painting is hardly a unique recovery for ICE. In July, they charged a man in Los Angeles with illegally importing a mosaic depicting the Roman god Hercules, believed to have been made around 2,000 years ago. That same month, a U.S. citizen in Brooklyn was charged with smuggling Egyptian cultural property into the United States. And in May, they filed in federal court for the forfeiture of one of the world's oldest works of literature—the Gilgamesh Dream Tablet, which originated in what is now modern-day Iraq.
They've also been instrumental in the recovery of works by artists like Edgar Degas, Paul Klee, Pablo Picasso, as well as pieces looted by the Nazis during World War II (ironic, given the propensity of some to liken ICE agents to Nazis).
ICE plays in integral role in fighting the illicit trafficking of antiquities to buyers in the United States. One interesting case took place in 2014, when a Roman sarcophagus lid was seized by ICE in New York and ultimately returned to the people of Italy.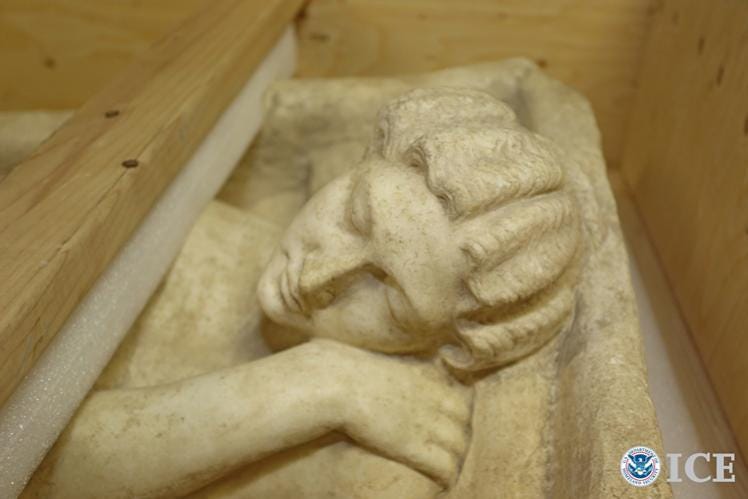 Unfortunately, ICE has become a popular target of protestors and politicians who chant and post to social media the ill-advised slogan "Abolish ICE." One prominent politician currently occupying the national stage even compared ICE agents to the KKK. Meanwhile, back in reality, the agency consists of your neighbors and mine, working to remove criminal felons from the country, arrest those involved in sex-trafficking and child pornography, investigate terrorism, remove dangerous narcotics from our streets, and, of course, recover and intercept important art and antiquities.
The Federal Bureau of Investigation, of course, has an Art Crime Team staffed by more than a dozen well-trained agents who work on art theft and similar cases. And in Los Angeles and New York City—both hotbeds for art crime—there are detectives assigned to their large number of art-related cases. But these law enforcement personnel alone cannot stem the tide of stolen and looted art coming into the United States. Indeed, America is a major importer of illicit art, and an effective border agency is essential to ebbing this tide, which is estimated to be around a few hundred million dollars each year (Rand; Sargent, Marrone, et al. 2020).
Next time you hear the slogans and see these abolition signs, remember that the people behind them have little to no understanding of what ICE actually does to protect our people and our patrimony.