Was COVID to blame for the theft of these masterpieces?
Van Gogh and Frans Hals stolen during lockdown
Shortly after most of the Western world went into lockdown in March 2020, a lone thief on a motorbike smashed his way through glass doors overnight at the Singer Laren museum east of Amersterdam and within minutes made off with Vincent Van Gogh's The Parsonage Garden at Nuenen in Spring 1884.
Five months later, in August, with many institutions still locked down, another masterpiece was stolen in the Netherlands in an overnight heist. This time it was a familiar target: Frans Hals' Two Laughing Boys with a Mug of Beer, which had been stolen twice before (and most recently recovered in 2011). After that second theft, leadership of the small museum in Leerdam housing the painting beefed up security. But it wasn't enough to stop another brute-force penetration of the building's perimeter.
Both paintings are valued in the many millions of dollars.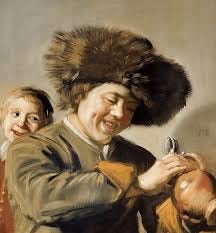 COVID-19 closures of public institutions were, and remain, a cause for great consternation among security professionals. The pandemic presented a prolonged period during which thieves were acutely aware that buildings housing great value are not as fully staffed by employees and security as usual. Moreover, barren streets and secluded neighbors mean that eyewitnesses are few and far between. Even the drastically reduced amount of traffic is attractive to criminals who translate it into a speedy, unobstructed getaway.
But art theft, of course, is not exclusive to lockdowns. No institution is immune at any time—day or night, pandemic or peace. Research shows that just over half of all thefts occur when institutions are open to the public. Moreover, the size of the facility is meaningless: every place from the Louvre to your local history museum has been robbed of something. No one is impervious to theft; rather, there are degrees of security ranging from unsecured to most-secured.
The Dutch heists are troublesome, but not necessarily attributable to the new COVID conditions. Just last November, when the virus hadn't even hit Wuhan, thieves in Britain attempted to steal a Rembrandt from the Dulwich Picture Gallery. And mere days before the lockdown began in the United Kingdom, important paintings by Anthony Van Dyck, Salvatore Rosa, and Annibale Carracci were stolen from Oxford University in yet another multi-million dollar heist. To date, none of these paintings, including the Van Gogh and Hals, have been recovered.
So while the novel Coronavirus pandemic has certainly created opportunity for thieves to strike, the two heists don't represent a spike in art heists—just more of the same inclination on the part of the criminal mind to try to turn millions of dollars in art into some sort of profit, or at least a bargaining chip. Unfortunately, a vaccine won't cure that illness.